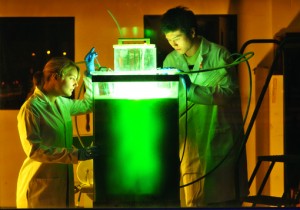 The Armour College of Engineering invites proposals for student-led projects to be supported within the Engineering Themes distinctive education initiative. Participation in these activities will be recognized in a student's engineering portfolio. The proposed projects and related activities are expected to be directly relevant to one or more of the theme areas, have high impact on student education and engage a high number of IIT engineering undergraduates. These awards are highly competitive and the most meritorious proposals will receive funding and administrative support from Armour College and the Engineering Themes Student Council.
Background
The Engineering Themes, an Armour College of Engineering distinctive education initiative, was started in 2011 in order to enhance the undergraduate experience at IIT. The program provides students with the opportunity to apply their engineering education to some of the most important challenges facing society today. You can learn more about the Engineering Themes at iit.edu/engineering/themes.
Requirements
Successful proposals will be expected to:
Identify how the activity directly addresses one or more of the theme areas.
Describe how student participation will be maximized.
Establish partnerships and collaboration between student organizations.
Notes
Proposals can include, but are not limited to, team engineering projects, design projects, engineering competitions, and community outreach.
Programs that engage the broader community (e.g. community groups, government, industry, schools, hospitals, etc.) are encouraged but it is not required.
Submission and Deadlines
Proposals should be submitted via email to engineering@iit.edu. The email should include the subject line "Themes Proposal".
Proposals for activities for spring 2013 will be accepted between now and February 28, 2013.
Proposals for activities for summer and fall 2013 are due by April 1, 2013.
Proposal Body (Sections to be Included)
1. Cover page
The cover page should include:
A. Title of proposed activity
B. Proposed date(s) of activity
C. Identify theme areas that apply (Energy, Health, Security, Water)
D. List student leaders with contact information, year, and major (Maximum 3)
E. List of faculty/staff liaison(s) (if any) with department and contact information
F. List student organizations involved with contact information
G. Total budget request
2. Description of activity and relevance to the Engineering Themes (2 pages maximum)
This section is an opportunity for students to provide an overview of the activity, describe relevance to one or more of the Engineering Themes, and describe how it will enhance the IIT educational experience.
3. Description of student recruitment/involvement (1 page maximum)
It is important that the activities engage the undergraduate engineering population at IIT. In this section the proposal should describe how students will be informed about the event and recruited to participate. This should include an anticipated number of students and identification of any student groups involved.
4. Description of expected or anticipated benefit to the enhancement of students' learning experience (1 page maximum)
5. Timeline of Events (1 page maximum)
A timeline should be provided for activities during the event and a schedule that indicates how planning and preparation for the program will be performed prior to the event.
6. Budget (1 page maximum)
An itemized total anticipated budget should be provided including specifically addressing where the funds will come from and what portion is requested from the Engineering Themes.
7. Letters of Support
Include letters of support from collaborators, such as faculty mentors, student groups, national/local foundations, and/or outside groups.
Required Format
Arial 11 font, 1-inch margins on all sides, single-spaced.