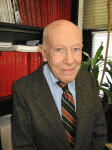 The annual Alumni Awards are an IIT tradition to recognize those who made notable contributions to their communities, professions, and the university. This year, the luncheon ceremony will be held Friday, April 19, 2013 and will recognize 11 winners in eight categories.
Burton Lewis (CE '48) is this year's winner of the Collens Merit Award, which honors an individual nominated by the university staff or faculty for their outstanding commitment to the future of IIT through philanthropic contributions paired with involvement in his or her gift.
Read on for more about Lewis and look for new winner profiles in IIT Today this week.
Degrees
B.S. Civil Engineering ('48), Illinois Institute of Technology; M.S. ('50), University of Illinois at Urbana-Champaign
Career
Upon graduation from IIT, Lewis was employed by The Austin Company in Chicago as a structural engineer and later as an estimator on large industrial facilities. He spent the remaining 34 years with De Leuw, Cather & Co., Chicago. He served as project manager for the Port Access Highway in Anchorage, Alaska, and the Second Level Roadway System at the Los Angeles International Airport. While living as a resident in Kuwait, he was the project director of a planning study for completion of Kuwait's highway system. Lewis served as office manager in Pasadena, Calif., and Edison, N.J., as well as vice president and Phoenix office manager. In Phoenix, he was project manager of the 55-mile Outer Loop Highway Project.
He is a fellow of the American Society of Civil Engineers. For 25 years he has been active with the National Council of Examiners for Engineering and Surveying.
IIT Involvement
Lewis has long been an active alumnus of IIT. He was particularly active in the San Francisco-area alumni chapter in the 1960s and 1970s and served as president of the San Francisco East Bay Alumni Club. He served as chairman of the President's Council Membership Committee and as a member of the President's Council Executive Committee. He currently is a member of the IIT Armour College of Engineering Department of Civil, Architectural, and Environmental Engineering Advisory Board and co-chair of the department's Development Committee.
Lewis was an active leader as an IIT student as well. He was a member of Tau Beta Pi, Honor Marshal, president of American Society of Civil Engineers, president of Chi Epsilon, and secretary of Inter-honorary Council.
Favorite IIT Memory
When Lewis attended IIT, civil engineering students attended a summer surveying camp in Wisconsin. It was a great way to get to know other civil engineering classmates and form stronger bonds as a result.
Hobbies
"Traveling has always been one of my favorite hobbies, and this includes my extensive travel on freighters and walking tours. In the late 1990s, I did the 192-mile walk across England. I'm also an active duplicate bridge player."