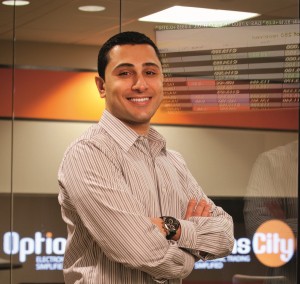 The annual Alumni Awards are an IIT tradition to recognize those who made notable contributions to their communities, professions, and the university. This year, the luncheon ceremony will be held Friday, April 19, 2013 and will recognize 11 winners in eight categories.
Hazem Dawani (CPE '01) won this year's Outstanding Young Alumnus Award, which honors an individual age 40 or younger who has advanced rapidly over the course of his career and displayed significant achievement in areas of leadership and professional success.
Read on for more about Dawani and look for winner profiles in IIT Today each Monday, Wednesday, and Friday until the event.
Degree:
B.S. Computer Engineering ('01), Illinois Institute of Technology
Career:
After graduating in 2001, Dawani found his first job with a small software company in Chicago's suburbs using the IIT Career Management Center. After two years, he joined one of the city's most prominent trading firms, Chicago Trading Company, and quickly identified an opportunity to excel. Realizing it was a unique time for the firm, he became part of the software team to find a solution to the firm's electronic trading problems. Dawani then led a team to build and implement a new software solution. In less than two years, the firm's electronic revenue increased to 40 percent and the company grew to more than 300 employees. It was this experience that opened his eyes to entrepreneurship. Along with two IIT friends and graduates, he co-founded OptionsCity Software, Inc. in 2006. Today, he leads a profitable company with more than 50 employees in Chicago and New York and was named one of Crain's Chicago Business Top "40 under 40" in 2012.
Thanks to IIT:
When Dawani and his business partners decided to quit their jobs and start a business, they immediately contacted the Knapp Entrepreneurship Center at IIT Stuart School of Business for advice and mentorship. "We knew we had the technical foundation but needed help putting together the business side. We are thankful for IIT; it taught us how to be great developers and entrepreneurs."
IIT Inspiration:
"As a scholar in the first class of the IIT Leadership Academy, I had the tremendous opportunity to work with Bruce Fisher. He was more than just the director. I respected his opinion and valued our relationship; he was a mentor. It was a very rewarding experience for everyone involved. The Leadership Academy activities helped shape my career."
Plans for the Future:
Dawani is very proud of his OptionsCity team and products. "We are very excited to expand globally to London and Asia and to see where the future takes us. The sky is the limit."
Advice to IIT Students:
"Build a long-term relationship with your professors and fellow students. They are relationships that will last years and years."