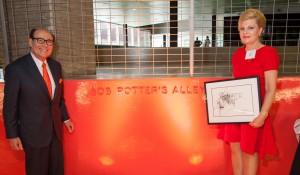 Robert J. Potter was honored February 8 at the McCormick Tribune Campus Center of the Illinois Institute of Technology in Chicago, Illinois. Campus officials, friends, family and colleagues of Potter gathered to dedicate a space for students to use computers in the building, designed by architect Rem Koolhaas.
Dedicated as "Bob Potter's Alley," the recessed area with a row of public computers provides a quiet spot in the central hub for student life that is typically frequented by 5,000 visitors per day. Potter was honored for his generosity and service to the university, where he has served as a member of the IIT Board of Trustees since 1979. Potter has funded scholarships, research and other initiatives at IIT and has established relationships for the university with other corporations and individuals.
Potter is the former chief executive officer of Datapoint Corp. (NYSE). He has held executive management positions with Nortel Networks, International Harvester, Xerox and IBM. He founded the Dallas-area business and technical consulting firm, R. J. Potter Company, in 1991. Born in New York City and raised in Pennsylvania, Potter graduated Phi Beta Kappa from Lafayette College in 1954 and earned a Ph.D in optics in 1960 from University of Rochester. He wrote the first dissertation on fiber optics published in the USA, and led the development of the first multifont optical character recognition machine, printwheel typing systems, laser xerography for fax machines and computer printers among many other technically-rich products and systems.
Potter serves on the boards of Molex Corporation and Zebra Technologies, both NASDAQ-listed companies, and other private companies. He is a member of the Development Board of the University of Texas at Dallas and has served on a number of public, private and non-profit boards.
Learn more about the capital campaign on the Fueling Innovation: The Campaign for IIT website.