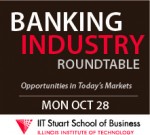 IIT Stuart School of Business presents a roundtable discussion on "Opportunities in Today's Markets" at the 2nd Annual Banking Industry Roundtable on Monday, October 28, 2013, at IIT Downtown Campus. A networking reception begins at 5 pm, and the program starts at 6 pm. There is no cost to attend, but registration is required.
Noted financial experts include keynote speaker Thomas Digenan, managing director and Head of U.S. Equities at UBS Global Asset Management; as well as panelists Robert Z. Aliber, professor emeritus of International Economics and Finance, University of Chicago Booth School of Business; IIT alumnus Patrick Bourbon, CFA, chief investment officer at ProManage and Founder of Bourbon Financial Management; and Sean Quinn, vice president in Derivatives Markets at Citigroup, Inc.
Sagar Sheth, director in the Global Markets Group at Deutsche Bank and adjunct professor of Finance at IIT Stuart School of Business, will moderate the panel of financial executives and provide an overview of current opportunities in financial markets.
Hear from leading financial experts on emerging opportunities in today's financial markets, and connect with IIT Stuart faculty and students from our internationally-ranked finance programs.
Contact careers@stuart.iit.eduwith any questions.