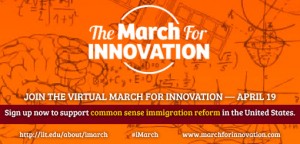 IIT joins more than 500,000 people on April 19 in a virtual march on Washington, D.C., to push for smart, comprehensive immigration reform.
Last month the presidents of Cornell University, Arizona State University, and Miami Dade College wrote an open letter to more than 1,200 of their fellow education leaders calling on them to stand together on April 19 and address smart immigration reform by speaking out on their respective campuses.
The initiative has the support of IIT President John Anderson and Provost Alan Cramb—because we need to attract and keep talent in the United States.
Innovation and technology support our American economy, but we need more of the best and the brightest out there to power it. Our current education system makes it difficult for many, including our foreign-born students, to stay in the United States, and we need them to stay here to help power innovation and discovery. At our universities knowledge is created, solutions to global problems are found, and innovation thrives.
Check out these statistics:
• More than three out of every four (76 percent) patents that the top 10 patent-producing U.S. universities received in 2011 was held by an inventor who was an immigrant
• Every foreign-born graduate with an advanced degree from a U.S. university who stays and works in a STEM field creates an average of 2.62 American jobs
• By 2018, the U.S. will face a shortage of more than 230,000 advanced-degree STEM workers
• Immigrants are twice as likely as native-born residents to start a business
• More than 40 percent of Fortune 500 companies were founded by an immigrant or a child of an immigrant As universities such as IIT prepare students for a twenty-first century workforce, education and immigration policies must keep pace with innovation and the growing demand for highly skilled professionals.
Sign up for the virtual iMarch for Innovation on April 19 at www.marchforinnovation.com. You'll learn all the ways you can make your voice be heard—including through social media.