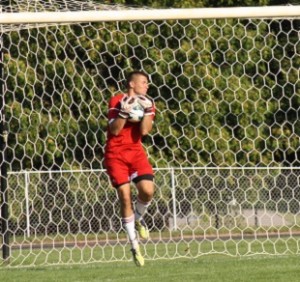 Illinois Tech traveled to Ann Arbor, Michigan to open the 2013 season against Concordia University and came home to Chicago with a draw after two overtime periods.
Tech gave up a goal on penalty kick in the 34th minute but then Roman Zwarycz answered just two minutes later to tie it up. In the 56th minute Hawk Rex Meier scored to put Tech ahead 2-1. Then Garet Hintzman netted his second goal of the contest in the 86th minute which held till the end of regulation. And the Hawks put up five shots in the double overtime but neither team could beat the goalies late. IIT goalkeeper Bart Grabowski had six saves on the day.
Illinois Tech is 0-0-1 on the season and will next play at 6:30pm for the Home opener in the Scarlet Hawk Invite as Purdue Calumet and Waldorf College kick off just before them at 4:00pm. Games will be played at newly renovated artificial turf Stuart Field on the campus of IIT.