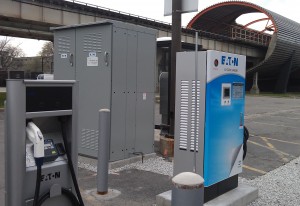 IIT's Robert W. Galvin Center for Electricity Innovation will hold a ribbon cutting ceremony marking the installation of the Perfect Power "Smart EV Charging Station" at 12 pm on Monday, March 19, 2012. The Galvin Center will also host the Chicago stop of the Electric Odyssey, the first world tour of a standard electric car.
The Galvin Center will cut the ribbon on one of the first "DC Quick Charge" electric vehicle charging stations in the country, which provides full charge of an EV in 15-20 minutes.  Additionally, the site will include six new "Level 2" Charging stations that can charge an electric vehicle in 5-6 hours.  The EV charging stations are installed and connected to the campus Perfect Power microgrid, coordinating with on-campus battery installations and building load management to minimize the impact of day-time (peak-time) charging of electric vehicles.
Antonin Guy and Xavier Degon of France are making the first around-the-world trip in a standard electric car.  The 25,000 km journey will cross 17 countries.  The Electric Odyssey team will be driving a CITROËN C-ZERO, a car with a battery autonomy of 150km. Their Chicago stop will culminate with a charge at IIT's new EV charging stations.
The charging station is located in Visitor Parking Lot A4 at 32nd and State Streets (just north of MTCC).  A reception will be held in the MTCC Welcome Center following the ribbon cutting ceremony.
Please RSVP for this event to abarbeau@iit.edu.