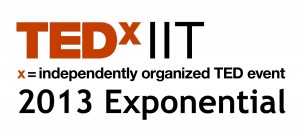 The TEDxIIT team ended last week after meeting President Anderson and Vice Provost Jerry Doyle to discuss the various other ideas to run this event smoothly.
We have more good news—announcing the speakers for this year's event! Want to know who's going to be speaking? TEDxIIT organizer Amy Lee Segami says, "speakers have been selected and they include two trustees, two alumni, two faculty members, one student and four speakers from the community. Topics will range from growing economy, high tech and decarbonization to philanthropy and entrepreneurship. From Manu Vora, the alumnus who won IIT's highest Alumni Award, the Alumni Medal, to the very first Lady Colonel Jill Morgenthaler, now retired, the speakers all have exponential ideas worth sharing with the whole world."
Are you interested in entrepreneurial spirit, business-oriented ideas and economic solutions? Well, we have speakers for that! Ever heard professionals say "It's not what you know, it's who you know"? Networking is one of those skills that don't just come with a college degree. Avelo Roy, a serial entrepreneur and spiritual aspirant, will tell you how important it is to build meaningful relationships while working your way to the top.
The team has also chosen an alumni and trustee acknowledged for his business strategies. Joel Krauss will express his aspiring ideas on how Chicago's commitment to entrepreneurship has spawned an ecosystem that wasn't in place five years ago. We will also welcome James Howard Stone, an economist and business executive once again onstage to present his insights on how to create exponential employment growth. Another speaker named as one of the top 100 Tech visionaries in Chicago will also take the stage. Do you know who I'm talking about? Nik Rokop, the managing director of the IIT Stuart Knapp Entrepreneurship Center, will discuss how unsuccessful start-up businesses develop confidence, leadership and a valuable network of resources.
Or is computer programming something that gets you excited? As a senior software engineer in the Chicago area, Neil Milsted works with the state of the art technologies involving software applications, telecommunications and artificial intelligence. His talk is focused in augmented reality, how the paradigm of computer usability is changing and the effects of changing from static to dynamic and from 'virtual' to 'real'. Ever got frustrated on how to solve a Rubik cube? Neil has coded prototype software that solves a Rubik's cube by using the webcam and instructs the user step by step!
Considering the reputation of IIT's architecture school, we wouldn't run this event without talking about architecture and its impact on global issues. Sara Beardsley, a licensed architect, will examine how to reduce carbon emissions so that we can envision cities as environmental things rather than places of pollution. Another architect, Ann F. Clark uses her architectural knowledge to help rebuild communities in Haiti and she will explain how future architects can help improve third world countries.
Other than entrepreneurship, technology and architecture, the TEDxIIT team has also brought in speakers who focus on social and personal issues. A well-reputed author, TV/film producer and director, Cheryl Jefferson will be discuss why female empowerment is now considered the dance of death. Cheryl was crushed to understand that Middle Eastern belly dancers are honor killed to maintain their family's pride. She has written several books based on criminal traditions such as honor killings and child marriages. As Cheryl Jefferson puts it, "Ultimately, my success is no longer about bestseller lists but about international laws with real teeth and the street level reality of saving lives." Another reputed speaker known for her nickname, "The next Oprah", Nina Ellis-Hervey will talk about ways to live our lives holistically by emphasizing the mental, spiritual and physical aspects of life. Last but not the least; we have an IIT fourth-year psychology student, Jacqueline Roche giving us a talk about her personal life. Achieving the life that she has now wasn't easy and she will take us through the road that made her who she is today.
Want to know more about the speakers? Join us at our pre-event at The Bog on March 28!