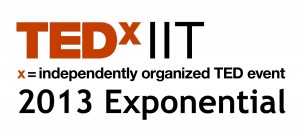 Last Thursday, TEDxIIT hosted a pre-event at The Bog to give more input on the main event. With the help of The Bog Committee and the Campus and Conference Centers, we were able to run the event without any major problems. With Soobin Kim and Luling Li helping us to publicize the event with posters, we had a great turnout with more than twenty five people who showed extreme interest in getting more involved in TEDxIIT this year! While Isabelle Romero encouraged the students to sign up, Chanese Smith made sure that the overall event was going on smoothly. After everyone grabbed some pizza and cookies that were delivered by Sodexo, Yoetzin Diaz and I took the stage to introduce ourselves and the team members who created this event. We then spoke minimal about our speakers so that we don't give out too much information. Before we watched a couple of TED Talks, I spoke about the advantages you get for signing up as a volunteer for this event.
With just two weeks until the big event, all we need is you! Volunteers who will help us make this a global event. Sign up on the TEDxIIT Volunteer Form.
Why should you volunteer? You build immense leadership skills by working with a small team for a huge event. You also build solid relationships with the alumni, students, faculty and staff. You can also be a speaker buddy and team up with one of your favorite speakers to get to know more about why they're passionate about what they do. Due to the limited seated, only a handful of students are selected to be at the event, but not you. As a volunteer, you get to be a part of this event without applying!
Assist us in creating a friendly atmosphere for the speakers who have traveled miles to be here at IIT!
To get weekly updates on what's going on with the event, sign up on the TEDxIIT 2013 mailing list on TEDxIIT.com and attend our weekly meetings on Friday mornings from 9:30-10:30 am at the SW conference Room on the 16th Floor, IIT Tower.
The more people we have, the better!