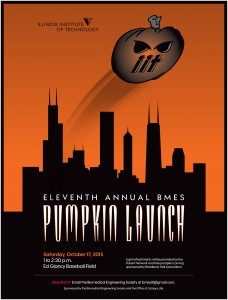 The Pumpkin Launch is IIT-BMES' most popular event every year. This year, the Pumpkin Launch takes place on Saturday, October 17, at 1 p.m. at Ed Glancy Field. This is also family weekend and Illinois Tech's 125th Anniversary. Through collaboration with the Office of Campus Life, this event has earned its place as one of the top three events on campus, and also a Freshman 15 event.
This event encourages student participation to form eight to 10 different teams consisting of 10-15 participants per team to build their own pumpkin-launching catapults. Annually, this event attracts a wide audience from the Illinois Tech community and all over Chicago. To register, apply through the Biomedical Engineering Society on Hawklink.
This is an event you don't want to miss. So come launch some pumpkins.