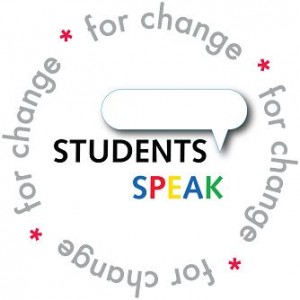 At the request of the President and Provost, IIT students are once again launching the Students Speak survey to solicit input to improving the quality of services provided to IIT students. This initiative is focused on soliciting feedback from students about how to improve various service areas. This program is in line with President John L. Anderson's and Provost Alan Cramb's commitment to advancing student satisfaction and the quality of various services (e.g., Public Safety, OTS, Academic Resource Center) IIT provides to students.
Students Speak reflects a philosophy that the student is the customer, who needs to have his or her needs, concerns and ideas better understood. It is rooted in a belief that IIT can do better by its students. The added perspective of "if it isn't working, it can and will be changed" makes this plan very ambitious.
Students Speak has been developed by a student committee including representatives from SGA, ISO, the Greek Community, Camras Scholars, Leadership Academy, and several graduate student organizations. The student committee has developed objectives, a project plan, and time frame for the Students Speak effort. The goals of Students Speak are to help the administration establish benchmarks of performance for services to students, identify priorities for improvement, create action plans for change, chart progress, and instill accountability for improvements.
The Students Speak committee will present the results from Students Speak to the President and Provost in January. Departments and service areas will receive feedback shortly after. Students will also submit specific recommendations for how to make the necessary changes needed to ensure student satisfaction with administrative services. The ideas they will present will be drawn from survey findings and additional input from members of their student organizations.
The challenge of this project is to obtain a high level of student feedback via the survey as student responses to surveys have traditionally been poor. One of the ways this is being combated is by offering incentives to survey respondents. For example, there will be a lottery for those who respond to the survey with the chance to win money and prizes.  Of course the most important incentives are having students' voice on multiple issues documented and to contribute toward making a positive difference in the future of IIT.  This is a chance to truly let senior administration hear student concerns and chart a new course for the future of the university – one that is student and customer focused.
President Anderson has asked that George Langlois, the Director for the Center of Research and Service, Department of Psychology and the Leadership Academy, support students in this process. Langlois is an Industrial/Organizational psychologist who conducts the annual faculty survey and works with numerous clients outside of IIT. He has many years of experience in survey design and analysis, and his role in this project is to work with the students by providing his expertise and experience. Langlois is an alumnus of IIT, where he received his PhD in Industrial/Organizational Psychology. He wants to help the university make a change in the student experience at IIT.
Be on the lookout for more information about Students' Speak. The process goes live October 27 and continues through November 10, 2014.  All students will be sent an email with a link to the survey, but if you miss the email, you can simply click on https://www.iit.edu/students_speak to complete the survey once it goes live.
Take the survey and be heard.
Together, we can make change happen.