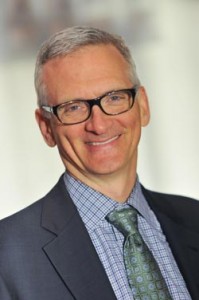 Chris Gladwin, member of the Illinois Tech Board of Trustees and founder of Cleversafe, will be the commencement speaker for the 2015-2016 Commencement ceremony on Saturday, May 14, 2016 at 10 a.m.
Gladwin founded Cleversafe in 2004 with the mission to create and commercialize new technology to "store the world's data." To prepare to pursue this vision, Gladwin started with an engineering degree from Massachusetts Institute of Technology. After graduation, he was a manager of corporate computing standards at Lockheed Martin, where he was a professional evaluator of computer products. He then switched to the vendor side of the business at Zenith Data Systems, where he created the first workgroup storage server. Gladwin next created and managed a number of successful new technology startups, including Cruise Technologies, the leading developer of thin-client tablet computers, and MusicNow, the first company to create digital-music subscription services.
For more information click here.