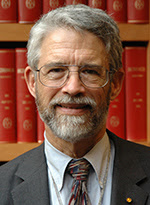 Join us for the 2017 Darsh T. Wasan Lecture:"Global Climate Change and U.S. Interests: What We Know. What We Expect. What We Should Do" on Thursday, October 19 at 3 p.m. in Hermann Hall Ballroom. John Holdren, President Obama's science advisor and director of the White House Office of Science and Technology Policy, will deliver this year's lecture. A reception will follow at 4 p.m. in the Hermann Hall Gallery Lounge. Business attire is recommended. RSVP by Thursday, October 12. Please email rsvpevents@iit.edu, call 312.567.5030, or register online at alumni.iit.edu/wasan. Complimentary parking will be provided. View this map.
Holdren was President Obama's science advisor and the Senate-confirmed director of the White House Office of Science and Technology Policy (OSTP) from January 2009 to January 2017. He was the longest-serving science advisor to the president in the history of the position (dating back to World War II).
Holdren is a member of the U.S. National Academy of Sciences, the U.S. National Academy of Engineering, the American Philosophical Society, the American Academy of Arts and Sciences, and the Council on Foreign Relations. He was one of the first winners of a MacArthur Foundation Prize Fellowship (1981) and is a former president of the American Association for the Advancement of Science (2006-07).
Prior to joining the Obama administration, Holdren was a professor in both the Kennedy School of Government and the Department of Earth and Planetary Sciences at Harvard University, as well as CEO of the independent, non-profit Woods Hole Research Center, which he now serves as Senior Advisor to the Director. From 1973 to 1996 he was on the faculty of the University of California, Berkeley, where he co-founded and co-led the interdisciplinary graduate-degree program in energy and resources. He earned S.B. and S.M. degrees from the Massachusetts Institute of Technology and a Ph.D. from Stanford in aerospace engineering and theoretical plasma physics.
Holdren is currently the Teresa & John Heinz Professor of Environmental Policy, Harvard Kennedy School and Professor of Environmental Science & Policy, Department of Earth & Planetary Sciences, Harvard University.