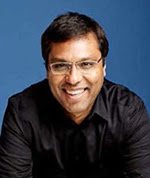 Join us for the 2018 Darsh T. Wasan Lecture: "The Story of Alexa: AI for Daily Convenience" on Monday, November 12 at 3 p.m. in Hermann Hall Ballroom. Rohit Prasad, vice president and head scientist, Amazon Alexa, will deliver this year's lecture. A reception will follow at 4 p.m. in the Hermann Hall Gallery Lounge. Business attire is recommended. RSVP by Friday, November 2. Please email rsvpevents@iit.edu, call 312.567.5030, or register online at alumni.iit.edu/wasan. Complimentary parking will be provided. This event is free and open to the public.
The computing industry has been on an inexorable march toward simplifying human-computer interaction, and earlier this decade Amazon bet big on combining voice technology and artificial intelligence. In 2014, with the introduction of Echo and Alexa, Amazon created an entirely new technology category with an AI-first strategy and vision. Since then Alexa has captured the imagination of customers across the globe, and the company has accelerated the pace of AI research and innovation to improve the experience for customers and developers. With a focus on real-world applications of AI at scale, Amazon's efforts today are applied to growing Alexa's intelligence and her understanding of the customer. Join Rohit Prasad, vice president and head scientist at Amazon Alexa, as he shares how recent science and engineering innovations are advancing Alexa's ability to be more competent, natural, and personal.
Prasad is vice president and head scientist at Amazon Alexa, the voice service that powers Amazon's family of Echo products, Amazon Fire TV, and third-party offerings. Prasad leads Alexa research and development in artificial intelligence technologies aimed at making interaction with Alexa a magical experience for customers. Prior to Amazon, Prasad was deputy manager and senior director of the Speech, Language, and Multimedia Business unit at Raytheon BBN Technologies. In that role, he directed United States government-sponsored research and development initiatives in speech-to-speech translation, psychological health analytics, document image translation, and STEM learning. Prasad is a named author on more than 100 scientific articles and holds several patents. He earned his master's degree in electrical engineering at Illinois Institute of Technology and a bachelor's degree in electronics and communications engineering from Birla Institute of Technology, Mesra (India).