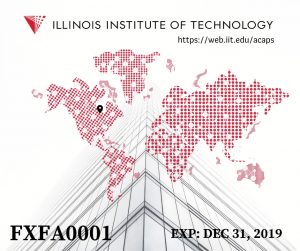 Congratulations to Mechanical, Materials, and Aerospace Engineering undergraduate Ayesha Anees for winning in both the Illinois Tech Flex and spring student parking permit design categories. Her winning designs will become the face of the permits for the next academic year! Here is what she had to say about her designs:
"For my designs, I was inspired by the Illinois Tech community itself and the uniqueness found in it. For the Flex design, I wanted the permit to show all the different places students originated from and how, despite the differences in our origins, we all came together to grow and learn at Illinois Tech. Following the same thought process, for the Resident design, I wanted to show how students built connections and relationships at Illinois Tech and how these roots helped them call Illinois Tech a home"
ACaPS would like to thank all of the students who participated in this year's contest. Your hard work and creativity are much appreciated.