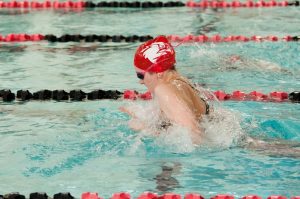 The Illinois Tech Women's Swimming and Diving team competed in the second day of the Liberal Arts Championships on February 9 at Principia College. The Scarlet Hawks ended the day in fourth place out of 11 teams.
Thursday Highlights
The 400 Yard Medley Relay team of Kristin Wills, Brigitte Temple, Briana Tyler, and Katherine Lydon shattered the school record, placing second in the event with a time of 4:00.16. This was over a six-second improvement from the group's preliminary round time of 4:06.09, which earned them fourth place. 
Lydon placed second in the finals of the 500 Yard Freestyle (5:09.39) after placing fourth with a time of 5:13.41 in the preliminaries. Delaney Shepherd finished 13th (5:27.88) after a 12th place preliminary finish (5:29.88).
Tyler (fourth place, 2:15.03), Wills (sixth place, 2:15.81), and Emma Prager (11th place, 2:20.02) qualified for the finals in the 200 Yard Individual Medley. Wills placed sixth in the final round (2:16.31) while Tyler placed seventh (2:16.61) and Prager placed 11th (2:18.80).
Duke followed up her relay performance with a sixth-place finish in the 50 Yard Freestyle at 25.39s. Her 25.25s time to qualify her for the finals placed her seventh in the morning.
The 200 Yard Freestyle Relay of Jamie Wurster, Haley Slator, Tyler, and Duke placed fourth in the preliminaries with a time of 1:43.83. In the final round, the group improved to 1:41.87 and stayed put at fourth.
Up Next
The third day of the LAC Championships will take place on Friday, February 10 with the 200 Yard Medley Relay, 400 Yard Individual Medley, 100 Yard Butterfly, 200 Yard Freestyle, 100 Yard Breaststroke, 100 Yard Backstroke, and 800 Yard Freestyle Relay events.