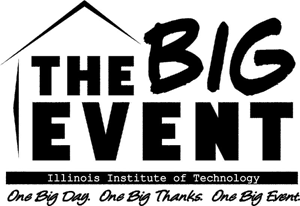 The Big Event is the largest, one-day, student-run service project in which students, faculty and staff from Illinois Institute of Technology come together to show gratitude to our neighboring communities through a dedicated day in their service. For the past 28 years, universities across the nation have participated in this annual event to show their appreciation to the surrounding community by completing service projects such as yard work, window washing, and painting for community members. On April 21, 2012, IIT celebrates its fourth year sponsoring the Big Event.
This year's Big Event will take place from approximately 9 am – 2 pm at various sites from the neighborhoods around the IIT main campus. We cordially invite you and your friends to participate in this year's volunteer events.
Relay for Life will be a part of the Big Event this year, also, and will be held on the main campus. The Relay for Life opening ceremony will be held on Friday, April 20, at 7 pm.
Sign up for your preferred spot today.
Feel free to email service@iit.edu with any questions!