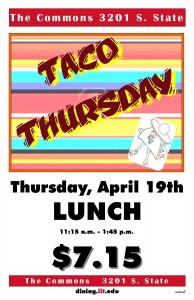 $7.15 Lunch – UnCommon Day in the Commons – Taco Thursday
The Commons will host a discount day Thursday, April 19 (11:15 am – 1:45 pm)and everyone can enter for $7.15 – the same price as a Commons Lunch Blox meal! Come enjoy a Taco Thursday possibly for the last time! We want you to vote on whether or not to continue Taco Thursday in The Commons. If you have an idea to replace Taco Thursday, we want to hear that too!
Make every day in The Commons a $7.15 All-You-Care-To-Eat lunch all year long. Simply purchase the Commons Lunch Blox Meal Plan. For more information, email IIT Dining Services at dining@iit.edu.