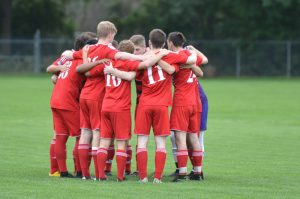 The Illinois Tech Men's Soccer team defeated the Lakeland Muskies 3-0 on Senior Night (October 17).
How It Happened
With the score tied 0-0 Conner Shaw scored a goal from the right side of the box from 20 yards deep to give Illinois Tech the 1-0 lead in the 35th minute.
 Senior Christopher Beluska recorded the win on senior night, playing the entire first half and not allowing a goal.
 Luke Holzman found Peter Fouchet in the left side of the box as he banked it home in the 61st minute.
Shaw scored his second goal of the night in the 75th minute.
Senior Anastasios Manolis started the second half in goal and did not allow a goal.
Scarlet Hawk Standouts
 Defense stepped up all night, not allowing a goal, a shot on goal, or even a shot.
 Shaw led the Scarlet Hawks with five total shots, including three on goal and two for goals.
 Senior Santiago Bartolome recorded three shots.
Up Next
Illinois Tech returns to action Sunday, October 21 against Edgewood College at 3:30 p.m.