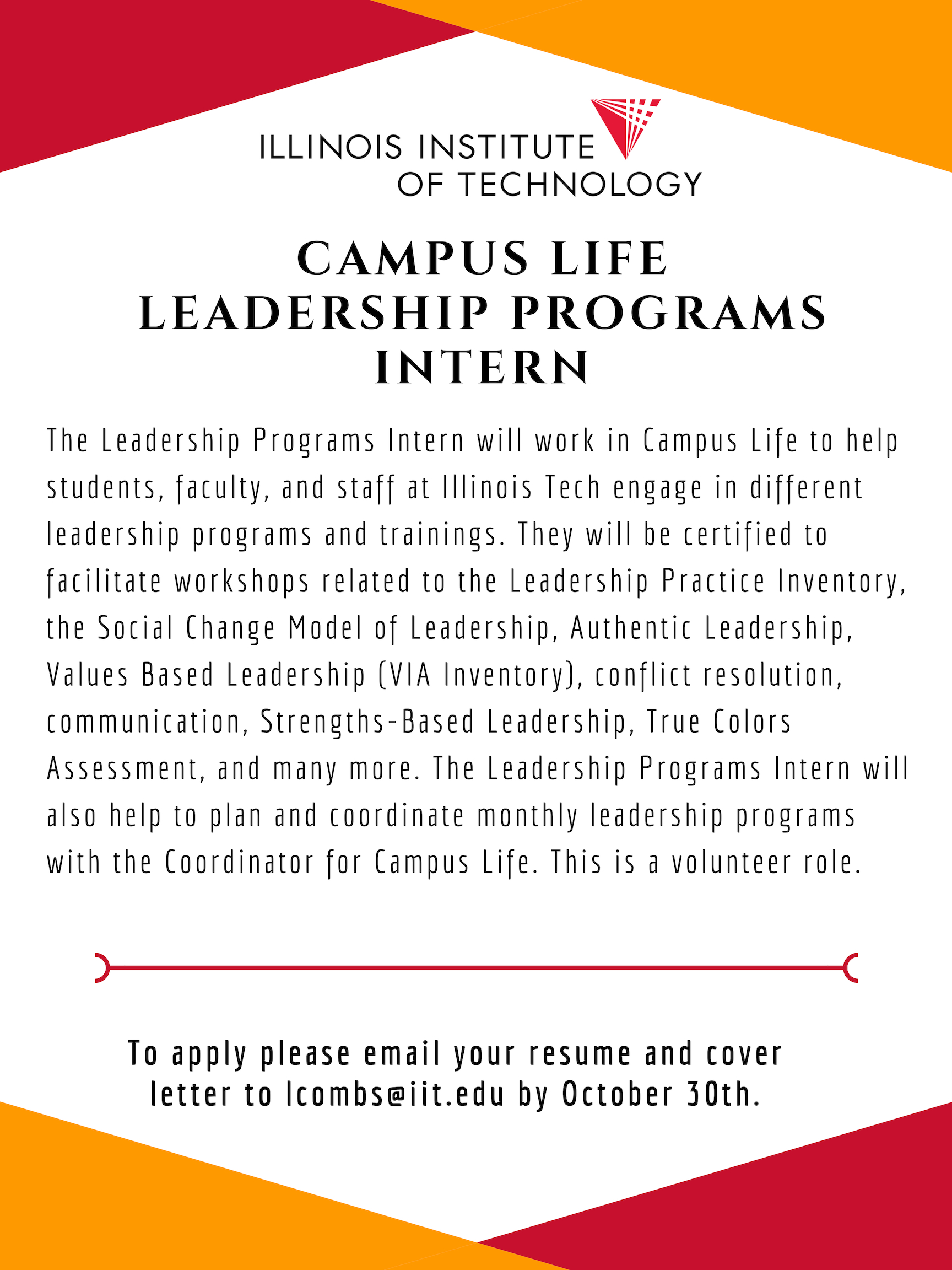 The Office of Campus Life is looking for a leadership programs intern.
The leadership programs intern will help students, faculty, and staff at Illinois Tech engage in different leadership programs and trainings. They will be certified to facilitate workshops related to the leadership practice inventory, the social change model of leadership, authentic leadership, values-based leadership (VIA inventory), conflict resolution, communication, strengths-based leadership, true colors assessment, and many more. The Leadership Programs Intern will also help to plan and coordinate monthly leadership programs with the coordinator for campus life. This position is a volunteer role.
The leadership programs intern will serve in the position from Monday, January 14 through Wednesday, May 15. The intern must be available for true colors assessment program training on Monday, November 12 from 11 a.m.–2 p.m.
Description of Role and Responsibilities
Become certified on workshops related to leadership included but not limited to leadership practice inventory, social change model of leadership, strengths, authentic leadership, values-based leadership, true colors, communication, conflict resolution, and more
Create workshops and curriculum for student organizations, departments, and courses based on leadership topics related to the Illinois Tech community
Plan and execute a monthly program or event that is related to leadership
Learn and understand the importance and components of different leadership theories
Meet weekly with coordinator for campus life
Other duties as assigned
Position Requirements
Ideal candidates will have a positive attitude, are flexible in busy environments, and work well with others
Ideal candidates will also have experience planning events and some knowledge of leadership theories and philosophies
Ability to work with supervisor, have weekly one-on-one meetings, and complete time-sensitive tasks
Basic computer and strong communication skills
Be a registered, undergraduate student at Illinois Tech in good academic and behavioral standing and maintain a minimum 2.5 GPA during the employment period
Display strong interpersonal communication and leadership skills, as well as the potential to develop these skills
Possess the ability and desire to work with diverse individuals and promote inclusivity
Contact Lisa Combs at lcombs@iit.edu with questions about position requirements or the application process.
To apply, email your resume and cover letter to lcombs@iit.edu by Tuesday, October 30.