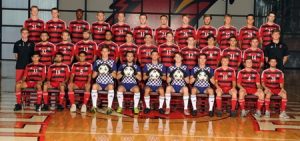 The Illinois Tech Men's Soccer team closed out the season on October 24, falling 4-0 to Dominican at West Campus Field.
How It Happened
 Denis Soldo got Dominican on the board after his low shot went left in the 23rd minute to give the Stars the 1-0 advantage.
 Josh Prindle scored his fourth goal of the season off the far post in the 30th minute to expand the lead to 2-0.
 Almost two minutes later, Jonathan Hernandez added his seventh goal of the season as he had a breakaway score.
 Illinois Tech was only able to get one shot on goal in the first half but it was saved by Dominican goalkeeper Daniel Dominquez.
 Soldo picked up his second goal of the match in the 78th minute to make it 4-0 Stars.
 The Scarlet Hawks had two more chances in the second half with shots on goal but Dominquez was there for the save each time.
Scarlet Hawk Standouts
Season in Review
In their first full season in NCAA Division III and full members of the Northern Athletics Collegiate Conference, the Scarlet Hawks posted a 9-9 record overall and 4-7 in conference.