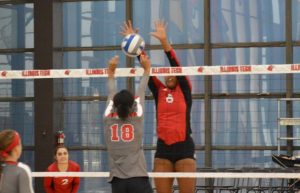 The Illinois Tech Women's Volleyball team dropped a 3-1 contest against Benedictine (Illinois) to conclude its Northern Athletics Collegiate Conference schedule this season.
How It Happened
 Benedictine took the first set, 25-14. After Illinois Tech led 9-8, the Eagles swung momentum their side and won the set.
 The Scarlet Hawks rebounded nicely, tying the match up at one after taking the second set, 25-21. The Eagles cut it to 22-21 but Illinois Tech rallied for the last three points to win the set.
 The Eagles took the third set, 25-15, pulling them ahead two sets to one.
 Benedictine won the match in the fourth set, 25-21.
Scarlet Hawk Standouts
Up Next
Illinois Tech returns to action on Friday, October 26 to compete in the Augustana Pumpkin Bash.