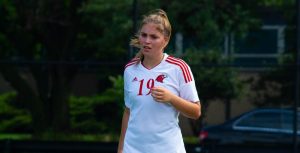 The Illinois Tech Women's Soccer team fell in the Northern Athletics Collegiate Conference Semifinals to Milwaukee School of Engineering on October 30. The Raiders (13-9) defeated the Scarlet Hawks (14-5-1) 2-1 at Stuart Field.
How It Happened

Shelby Namen put the Raiders on the scoreboard in the 36th minute.
Caeli Kennedy responded with a goal of her own in the 37th minute with an assist from Jamie Griggs.
Both teams were tied at one at the halftime break.
In the second half, Nikki Ratts was able to head it in for a goal in the 69th minute.
Illinois Tech had a couple of shots on goal but Allison Lessila stopped them all.
Scarlet Hawk Standouts
Season In Review
The Illinois Tech Women's Soccer team finished the year 14-5-1 overall and 9-2 in their first full season in the NACC. The Scarlet Hawks finished in second place in the conference.