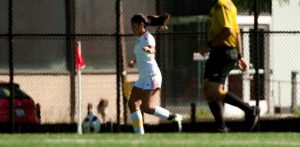 The Illinois Tech Women's Soccer team came up short against Dominican (Illinois) in the Northern Athletics Collegiate Conference Tournament Championship.
How It Happened 
Both teams were playing well defensively in the first half as the Stars had five shots and the Scarlet Hawks had two.
Dominican's goalkeeper picked up a huge save in the first half after Kirsten Robinson had a shot on goal attempt in the 33rd minute.
Caitlin Kenoian blocked a Stars goal in the 46th minute.
Dominican recorded 11 total shots in the second half while the Scarlet Hawks only had one.
Kenoian picked up another huge save in the 58th minute after a shot attempt by Tania Paez.
Both teams went into overtime scoreless.
Josseline Williams ended the tie and the match with a header in the 94th minute.
Scarlet Hawk Standouts
The Scarlet Hawks defenders allowed 19 shots and only one goal.
Kenoian played 94 minutes and picked up two saves, despite giving up a goal.
Kirsten Robinson, Erin James, Katie Hoefgen all recorded shots with Robinson's being on goal.
Season In Review
The Illinois Tech Women's Soccer team finished the year 16-5-1 overall and 9-2 in their first full season in the NACC. The Scarlet Hawks finished in second place in the conference and as runner-up in the NACC Tournament.