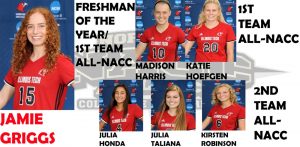 The Northern Athletics Collegiate Conference selected Illinois Tech Women's Soccer player Jamie Griggs as Freshman of the Year.
Roshane Ellison, Illinois Tech women's soccer coach, said "It is very fulfilling that our student athletes were recognized by the conference for their exceptional play this fall."
With an exciting and talented group of student athletes led by Griggs, our future looks very bright," Ellison added. "Jamie is one of many talented young players that will be making a great impact on our program going forward."
Griggs scored 15 goals on the season and had six assists.
Katie Hoefgen, senior, Griggs and Madison Harris, junior were also named to the All-NACC First Team. Hoefgen played and started in every match for the Scarlet Hawks and led the team in goals and assists this season, notching 22 goals and nine assists in 2018. Harris also played and started in every match for Illinois Tech as a defender for a team that only allowed 1.29 goals per match.
"In the grand scheme of things the team and team goals always come first," Ellison said. "Individual awards serve as a great source of motivation for each player that if they work hard and challenge themselves they will be rewarded."
Julia Honda, freshman, Kirsten Robinson, senior, and Julia Taliana, sophomore, were awarded All-NACC Second Team Honors.
Honda played in all 22 matches for Illinois Tech this season with 21 starts in her rookie campaign. Robinson was also a part of the back line for the Scarlet Hawks. Taliana was third on the team with 10 goals and six assists on other goals.
Catherine Klemp, freshman, and Katherine Nishimoto, senior, made the All-NACC Honorable Mention Team.
Klemp was Illinois Tech's primary goalkeeper this season. She played in 19 matches with 17 starts at goal. She allowed 1.36 goals against average and recorded a .729 save percentage with four shutouts. Nishiomoto started in 19 of her 21 matches her last season with Illinois Tech and also helped the defenders all year.
"We are excited about the progress of our program but we will not settle because our vision and goals are much greater than this fall's accomplishments," Ellison said.
Illinois Tech went 16-5-1 this season in their first season in the NACC. The team went to the conference tournament championship before falling to Dominican.