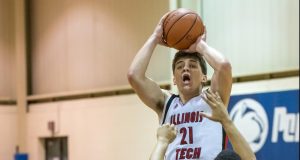 The Illinois Tech Men's Basketball team opened the regular season on November 12 against the Trine University Thunder. After exchanging leads for the early portion of the first half, Trine defeated Illinois Tech 76-67.
How it Happened
Junior center Max Hisatake scored the first basket of the year for the Scarlet Hawks at the 18:36 mark. After Trine took a 6-2 lead, preseason All-American selection Anthony Mosley Jr. scored six of Illinois Tech's next eight points to give the Scarlet Hawks the lead.
A Jake Digiorgio tip-in at the 4:13 mark in the first half gave Illinois Tech a 20-16 lead, its largest of the game. Trine responded with a 14-4 run, taking a 30-24 lead into intermission.
Digiorgio scored the first four points for the Scarlet Hawks out of the half as well, but Illinois Tech was unable to draw to within one possession until the 15:51 mark. A Milos Dugalic three-pointer off an Ahmad Muhammad assist brought the score to 42-39.
After a timeout, Trine went on an 8-0 run take its first double-digit lead. Illinois Tech pulled to within five twice in the later portions of the half, but the Thunder held on for the victory.
Scarlet Hawk Standouts
Mosley Jr. led all Illinois Tech scorers with 19 on an efficient eight-of-15 shooting night.
Digiorgio was a monster in the post with a 17-point, 16-rebound double-double.
Hisatake tallied 15 points with eight rebounds and two blocked shots.
Stats to Know
Both teams took great care of the basketball for a season-opening contest, each turning it over only 10 times.
Trine was the more efficient shooting team, outshooting the Scarlet Hawks 46.9% compared to 40.3%.
Trine was six-of-13 from beyond the arc. Illinois Tech was five-for-20.
Up Next
The Scarlet Hawks will play an exhibition game at NCAA Division I Northern Illinois University on Saturday, November 17 at 2 p.m.