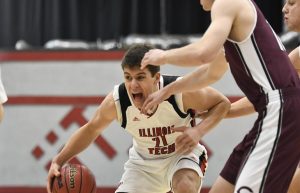 The Illinois Tech Men's Basketball team drove west on December 13 to take on the Cornell College Rams. Illinois Tech led by six at halftime but ultimately fell 69-64.
How it Happened
After a back-and-forth early portion of the game, the Scarlet Hawks took a five point advantage with 7:24 left in the first half on a Jake Digiorgio jumper to go up 22-17.
Cornell would rally back to lead by as much as four in the first half, but Illinois Tech ended the half on a 7-0 run thanks to five Malik Howze points.
The early second half lead reached as high as 10, as Anthony Mosley Jr. scored four of the team's first six points. Illinois Tech led 40-30 with 18:51 left in the contest.
Cornell slowly chipped away at the lead, coming to within one with 11:40 left before breaking through with 7:09 remaining, going ahead 54-52.
The Rams never trailed the rest of the way. Down six with 22 seconds to go, Howze nailed a three to pull Illinois Tech to within three. After Cornell missed two free throws to give the Hawks a chance to tie, a Howze three hit back iron, leading to an ensuing Rams rebound and two made foul shots to seal the win.
Scarlet Hawk Standouts
Howze had 21 points to lead all scorers. He also had four assists and three steals while going five-of-nine from beyond the arc.
Digiorgio had a double-double of 16 points and 10 rebounds.
Parker Joncus hit three shots from downtown.
Stats to Know
Illinois Tech fell to 6-3 on the season while Cornell moved to 5-3.
The Rams shot significantly better in the second half (46.2%) than the first (37.5%).
Illinois Tech was out rebounded 46-35 by Cornell.
Up Next
Illinois Tech will host Fontbonne University on Monday, December 18 at 7 p.m. Live audio, video, and stats will be available. The live audio will be powered by Illinois Media School.