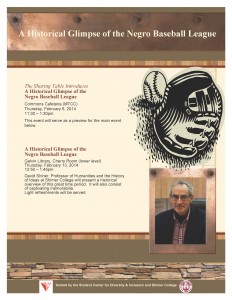 Sponsored by the Student Center for Diversity and Inclusion, the Sharing Table features "A Historical Glimpse of the Negro Baseball League" from 11:30 am-1 pm on Thursday, February 6, 2014 in the McCormick Tribune Campus Center Commons Cafeteria with a visit from David Shiner, Professor of Humanities and the History of Ideas at Shimer College.
This discussion will serve as a preview for a similar event taking place from 12:50-1:45 pm at the Paul V. Galvin Library in the Cherry Room. At this event, Shiner will present a historical overview of the Negro Baseball League. Memorabilia will also be on display.
This event reflects the values expressed in IIT's Diversity Statement and is intended to promote diversity at IIT.