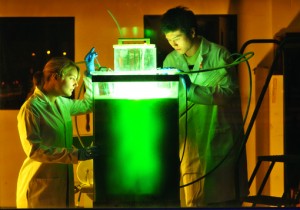 The Armour College of Engineering invites and encourages the submission of proposals for undergraduate research projects within the Engineering Themes distinctive education initiative. The program is built in partnership with the IIT's Wanger Institute for Sustainable Energy Research (WISER), Pritzker Institute of Biomedical Science and Engineering, and Institute for Food Safety and Health (IFSH), and will provide stipend support for students to work in the research laboratories of IIT faculty mentors. Participation in these activities will be recognized in a student's engineering portfolio. The research is expected to be directly relevant to one or more of the theme areas. These awards are competitive and only meritorious proposals will receive funding. This program promotes undergraduate research as a valuable educational experience within engineering education and expects to significantly increase student participation and the number and type of undergraduate research opportunities available to engineering students.
Financial Support (Student Stipend)
$10/hour during the Spring 2013 semester with a maximum of $1,500. Financial support is limited to student stipend.
Paper Requirement
All students receiving support are required to write a paper on their research.
Workshop Requirement
All students receiving support are required to attend a series of brown bag lunches (about six sessions) provided by Armour College that will introduce concepts of research in engineering.
Process
Students and faculty interested in applying should email engineering@iit.edu to receive an application form. The email should include the subject line "Application Request". The application form can also be accessed by visiting the Armour College website. Faculty-student pairs must submit the application to engineering@iit.edu. The email should include the subject line "Undergraduate Research Application".
If you are a student who is interested in undergraduate research but do not have a project or faculty mentor, you are still encouraged to fill out the applicable portions of the form and email it to engineering@iit.edu. Armour College will work to match you with an appropriate project and faculty mentor based upon your stated research interests.
Deadlines and Important Dates
Application Deadline
Applications will be accepted starting Tuesday, February 5, with a rolling deadline for submission until available funds are exhausted. Therefore, faculty-student pairs are strongly encouraged to apply as soon as possible.
Awards Decision
Awards decision will be made every Thursday starting February 7, considering all applications submitted in full by 5:00 pm the previous day (each Wednesday).  Awards will be made to meritorious proposals until available funds are exhausted.
Fund Availability
Immediately after project is selected for an award.
Notes
1) Student/faculty teams already engaged in undergraduate research projects are eligible for participation in this program.
2) Awards and funds not used before the end of the spring semester do not roll over for summer or another semester. A new application will be required for summer and/or fall 2013 funding.