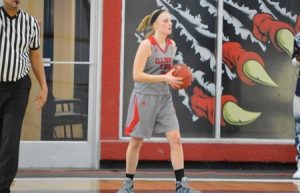 The Illinois Tech Women's Basketball team hosted Adrian College on January 14 in Keating Sports Center. The Scarlet Hawks were defeated 81-27.
How it Happened
Adrian started the game on a roll, making 10-of-12 shots from the floor in the first quarter to lead 26-6.
Illinois Tech slowed the Bulldogs offense in the second quarter, as Adrian shot 31.6%. Illinois Tech trailed 41-14 at halftime.
After Adrian added to its lead in the third quarter, five different Hawks scored in the fourth. Illinois Tech also grabbed 10 rebounds in the final quarter.
Scarlet Hawk Standouts
Up Next
Illinois Tech plays on Sunday, January 22 at Alma College. Tip-off is set for noon.