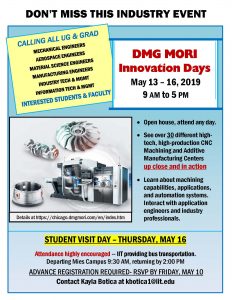 All Illinois Tech students and faculty are invited to attend the DMG MORI Chicago Innovation Days open house event running Monday, May 13 through Thursday, May 16. Illinois Tech will be providing transportation for May 16. The bus will pick up attendees in the parking lot located on the west side of Hermann Hall, departing campus at 9:30 a.m. and returning to campus by 2 p.m.
See more than 30 different high-tech, high-production CNC machining and additive manufacturing centers up close and in action!
Learn about machining capabilities, applications, and automation systems.
Interact with application engineers and industry professionals.
This event has particular relevance for students in mechanical engineering, materials science, aerospace engineering, manufacturing engineering, industrial technology and management, information technology and management, and biomedical engineering. DMG MORI is currently working with the university to bring high-tech equipment to campus this fall.
ADVANCE REGISTRATION IS REQUIRED. Please RSVP BY Friday, May 10. To register, email Kayla Botica at kbotica1@iit.edu.