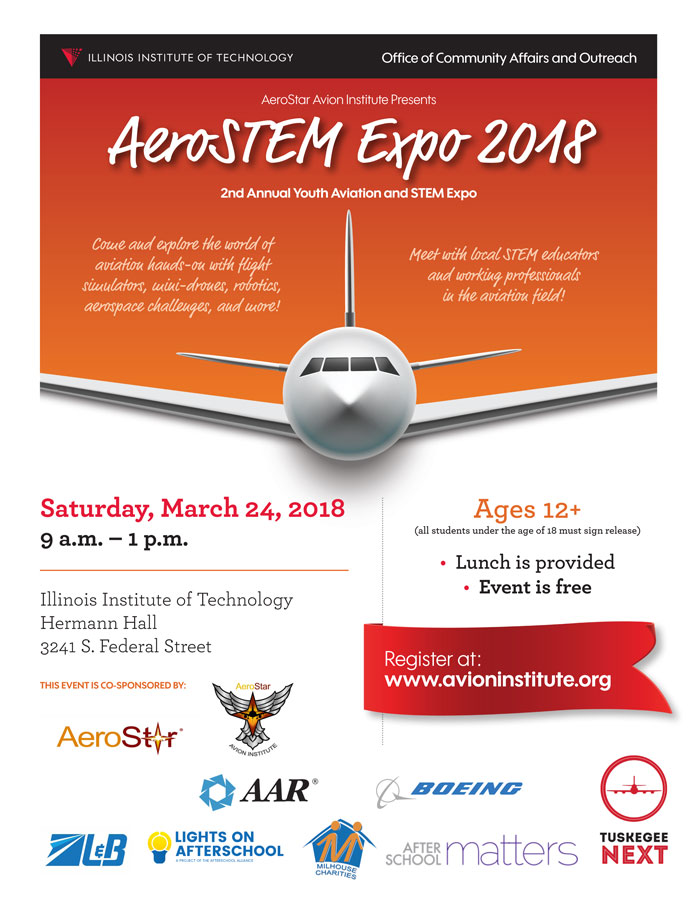 Chicago students age 12 and up are invited to attend the Second Annual AeroStar Youth Aviation STEM Expo on Saturday, March 24 from 9 a.m.–1 p.m. in Hermann Hall (3241 South Federal Street) on Illinois Tech's Mies Campus. This free event introduces inner-city youth to the aviation and aerospace fields and mentors career aspirations that may ultimately lead to well-paying, satisfying careers in flight and aerospace.
Participants will interact with flight simulators, mini-drones, and robots. Additionally, industry professionals will provide mentoring opportunities. The expo will also feature a free lunch followed by an overview of aviation STEM activities in our community. For further details about the expo, including registration and expo sponsorship opportunities, visit www.avioninstitute.org.
Parents of all participants under age 18 are required to sign a release as part of the registration process. The expo is sponsored by AeroStar Consulting Corporation and Illinois Institute of Technology in partnership with @aar , After School Matters, the Boeing Company, L & B, Lights On Afterschool/Afterschool Alliance Washington, D.C., Milhouse Charities, Tuskegee NEXT, and United Airlines.