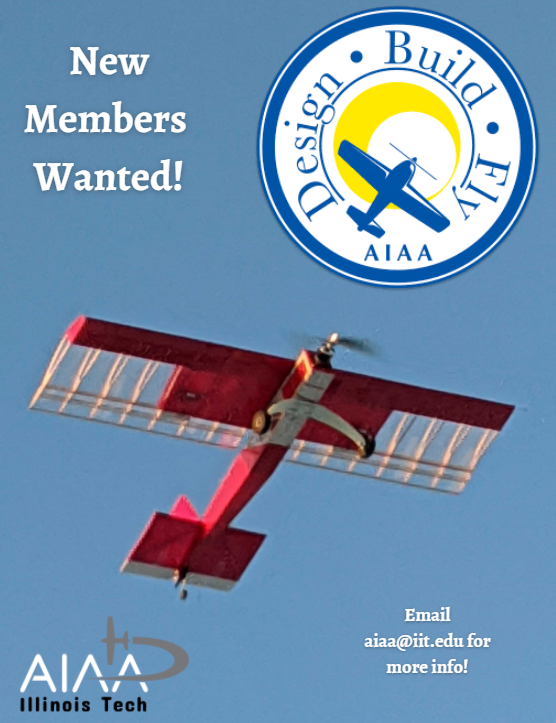 Want some hands-on engineering experience? Want to meet fellow airplane enthusiasts? Want to build a remote-controlled airplane from scratch? The American Institute of Aeronautics and Astronautics wants you!  AIAA is preparing for the next Design, Build, Fly Competition. All majors are welcome! We hope to see you at our upcoming recruitment meetings on September 3 and 4!
About Design, Build, Fly
Student teams will design, fabricate, and demonstrate the flight capabilities of an unmanned, electric powered, radio-controlled aircraft which can best meet the specified mission profile. The goal is a balanced design possessing good demonstrated flight handling qualities and practical and affordable manufacturing requirements while providing a high vehicle performance.
To encourage innovation and maintain a fresh design challenge for participants, the design requirements and performance objective is updated each year. The changes provide new design requirements and opportunities, while allowing for application of technology developed by the teams from prior years.
The 2020/2021 AIAA Design, Build, Fly competition is celebrating its 25th year. Started in 1996 by the AIAA Applied Aerodynamics, Aircraft Design and Flight Test Technical Committees, the competition provides university students with a chance to apply real-world aircraft design experience by giving them the opportunity to validate their analytic studies.
Upcoming Meetings
Virtual recruitment meetings are scheduled for Thursday, September 3, 2020 from 2-3 p.m. CST or Friday, September 4, 2020 from 5-6 p.m CST. If you can't make either meeting, hakuna matata! Email aiaa@iit.edu and we will be sure to fill you in on what was covered at the meeting.