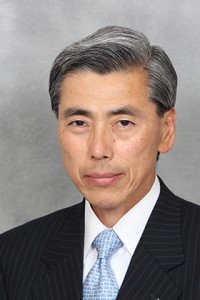 Meet Akihisa "Aki" Miwa (M.S. OR '83), the 2016 International Award of Merit winner.
Miwa has spent his career at Obayashi Corporation, a leading global construction company. He began working as an architectural engineer and later became a project manager, overseeing the construction of buildings around the world, including well-known skyscrapers and sophisticated manufacturing facilities. He now sits on the company board of directors as senior managing executive officer and also serves as the company's chief director of nuclear power and chief director of technology. In these roles he oversees the engineering and construction of nuclear power plants as well as the technologies for all Obayashi projects. Currently the company is making history with plans to build the world's first elevator to outer space.
The 2016 Alumni Awards luncheon and ceremony will recognize 13 alumni and one civic leader. Help celebrate these extraordinary winners on Friday, April 29 at 11 a.m. in Hermann Hall. Registration is required, and tickets are $50 each.