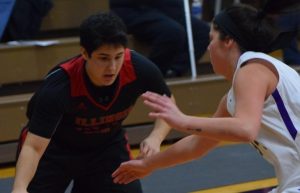 The Illinois Tech Women's Basketball team traveled to Albion, Michigan, on January 7 to oppose Albion College in the team's first game in 2017. Illinois Tech was defeated 99-28.
How it Happened
Illinois Tech had its best offensive quarter of the day in the first, netting 12 points. Both Raiven Johnson and Madison Davis scored five points each over that span.
The Illinois Tech offense was stifled in the second quarter, managing just two points on a Venika Jarvis field goal.
Albion's offense dominated the second half, managing 55 points.
Scarlet Hawk Standouts
Johnson tallied a team high eight points.
Davis had seven points and five rebounds.
Kaylee Wicka scored six points off the bench.
Up Next
Women's Basketball will play next on Tuesday, January 10 at Grace Bible College. The game is set to begin at 6 p.m.