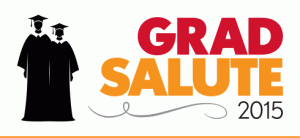 To officially kick off the Commencement celebration, Illinois Institute of Technology is hosting Graduate Salute on Monday, April 27, and Tuesday, April 28, from noon–7 p.m. in the Hermann Hall Ballroom. Attendance is only necessary on one of these two dates, not both. Graduate Salute is an important event that will help you prepare for Commencement.
At Graduate Salute you will:
Pick up your regalia (cap and gown) and guest tickets for the Commencement ceremony. You must present your student ID or other photo ID in order to receive your items.
Receive information from Career Services on your job search.
Talk to the IIT Alumni Association and learn how to stay in touch with Illinois Tech after you graduate.
Order your personalized graduation announcements and class ring.
Have a picture taken wearing your cap and gown. There is no obligation to purchase a photo even if you have one taken.
Please note: You can only claim regalia and tickets for yourself. Students who filled out the online Ceremony Response Form by the deadline are eligible to receive four guest tickets. Students who did not respond on time will be put on a waiting list for guest tickets. Contact your academic unit planner regarding guest tickets. All students are welcome to attend the IIT Commencement ceremony.
Mark your calendars to attend Graduate Salute on one of the two days. Shuttles will run between the Downtown Campus and Main Campus for this event. To view the shuttle schedule, click here. For more information about Graduate Salute, click here.
Questions? Make sure you contact the correct department: