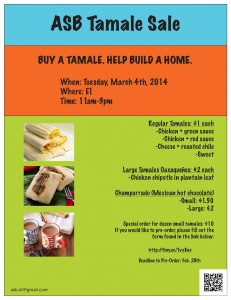 Come enjoy a delicious homemade tamale and fight off the cold weather with a hot chocolate from 11 am – 3pm on Tuesday, March 4, 2014 in the Engineering 1 Lobby. Proceeds will help Alternative Spring Break (ASB) raise money for their trip to West Virginia to build a house.
Regular Tamales: $1 each
-Chicken + green sauce
-Cheese + roasted chile
-Chicken + red sauce
-Sweet
Large Tamales Oaxaqueños: $2 each
-Chicken chipotle in plantain leaf
Champurrado (Mexican hot chocolate)
-Small: $1.50
-Large: $2
*Special order for one dozen small tamales: $10
If you would like to pre-order, fill out this form. Pre-order deadline is February 28, 2014.