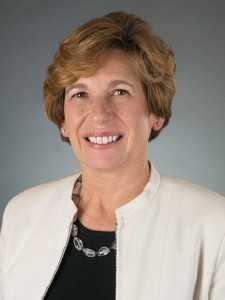 Randi Weingarten, president of the American Federation of Teachers (AFT), AFL-CIO, will deliver the tenth IIT Chicago-Kent College of Law Distinguished Labor Leader Lecture on March 24, 2014. The program, which is free and open to the public, will begin at 4 pm at IIT Chicago-Kent College of Law, 565 W. Adams St. (between Clinton and Jefferson streets) in Chicago.
"We are pleased to have AFT president Randi Weingarten as our speaker," said Professor Martin H. Malin, director of IIT Chicago-Kent's Institute for Law and the Workplace. "She is at the forefront of all of the major issues related to education. She has spearheaded initiatives that improve classroom education, promote 'solution-driven unionism,' improve teacher evaluation procedures, align tenure and due process, and advocate for increases in funding for facilities."
As president of the 1.5 million member union, Weingarten is actively involved in issues affecting teachers; paraprofessionals; higher education faculty and staff; nurses and other healthcare professionals; local, state and federal government employees; early childhood educators and other school-related personnel.
Prior to her election as AFT president in 2008, Weingarten served twelve years as president of the United Federation of Teachers (UFT), AFT Local 2, representing approximately 200,000 educators in the New York City public school system, home child care providers, and other workers in health, law and education. From 1986 to 1998, Weingarten served as counsel to the UFT president, where she took a lead role in contract negotiations and enforcement, and in lawsuits involving issues related to school funding and building conditions. Weingarten taught history at Clara Barton High School in Brooklyn's Crown Heights neighborhood from 1991 to 1997.
Weingarten holds degrees from Cornell University's School of Industrial and Labor Relations and the Cardozo School of Law. She worked as a lawyer for the Wall Street firm of Stroock & Stroock & Lavan from 1983 to 1986. Weingarten is an active member of the Democratic National Committee and numerous professional, civic and philanthropic organizations. Her column "What Matters Most" appears in the New York Times on the third Sunday of each month.
The Distinguished Labor Leader Lecture Series was inaugurated in 1998 by IIT Chicago-Kent's Institute for Law and the Workplace and the Chicago Federation of Labor, AFL-CIO, as a public service to offer forums on critical workplace issues. Previous lecturers have been given by Morton Bahr, president of Communications Workers of America; Sandra Feldman, president of the American Federation of Teachers; Michael Fitzgerald, business manager and financial secretary of the International Brotherhood of Electrical Works, Local 134 (IBEW); SEIU Local 1 president Tom Balanoff; and AFL-CIO president Richard Trumka.
Established in 1996 at IIT Chicago-Kent, the Institute for Law and the Workplace is a national center for research, training, dialogue, and reflection on the law that governs the workplace. The institute also serves as an intellectual home for the labor and employment law community, both in the Chicago area and nationwide. It pools the resources of leading academic scholars and the practicing professional community to train students and professionals, monitor policies and trends, and reflect upon issues confronting the labor and employment law community in a neutral setting.
Randi-Weingarten-high-res(1).jpg (705 KB)