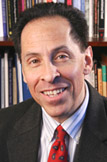 Andrew Koppelman, the John Paul Stevens Professor of Law and professor of political science at Northwestern University, will deliver the 2012 Constitution Day lecture at IIT Chicago-Kent at 5:00 pm on September 24. Koppelman will address the topic "The Tough Luck Constitution and the Fight over Health Care Reform." The lecture will be held in the law school's Abraham Lincoln Marovitz Courtroom, 565 West Adams Street (between Clinton and Jefferson streets) in Chicago. The program is free and open to the public, but reservations are requested.
Koppelman will discuss challenges to the Patient Protection and Affordable Care Act. The United States Supreme Court upheld the law and its controversial provisions on June 26, 2012. Koppelman's article Bad News for Mail Robbers: The Obvious Constitutionality of Health Care Reform is the most viewed article in the history of the Yale Law Journal Online, with more than 100,000 hits within the first month it was posted.
A member of the Northwestern faculty since 1997, Koppelman's scholarship focuses on issues at the intersection of law and political philosophy. He is the author of Defending American Religious Neutrality (Harvard University Press, forthcoming 2012), A Right to Discriminate? How the Case of Boy Scouts of America v. James Dale Warped the Law of Free Association (with Tobias Barrington Wolff, Yale University Press 2009), Same Sex, Different States: When Same-Sex Marriages Cross State Lines (Yale University Press 2006), The Gay Rights Question in Contemporary American Law (University of Chicago Press 2002), Antidiscrimination Law and Social Equality (Yale University Press 1996), and more than 80 articles in books and scholarly journals.
Koppelman completed his undergraduate education at the University of Chicago. He earned his master's degree and doctorate in political science from Yale University, where he also earned his law degree.
Constitution Day was established by joint resolution of Congress in 1952 to commemorate the signing of the U.S. Constitution on September 17, 1787. Four years later, Congress passed a joint resolution requesting that each year the President proclaim the week of September 17 through September 23 as Constitution Week. In 2004, Congress mandated that all institutions receiving federal funds hold educational programming related to the U.S. Constitution.
This program is co-sponsored by the Jack Miller Center and IIT Chicago-Kent's Institute on the Supreme Court of the United States. For more information or to RSVP, please contact Alison Steiner at 312.906.5119 or asteine2@kentlaw.edu.