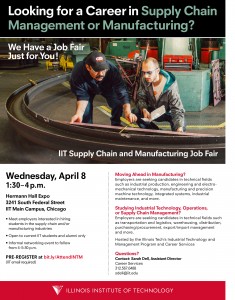 T​he Industrial Technology and Management Program and Career Services at Illinois Tech present a Supply Chain and Manufacturing Job Fair on Wednesday, April 8​, 2015​, from 1:30-4 p.m. in the Hermann Hall Expo. This event is open exclusively to current Illinois Institute of Technology students and alumni. An informal networking event will follow the fair from 4-5:30 p.m.
​Pre-register here. An Illinois Tech email is required.
See companies attending here.  This list will be updated daily during business hours.
Manufacturing:
Employers are seeking candidates for managerial, engineering, and technical positions with backgrounds in industrial production, electro-mechanical technology, manufacturing and precision machine technology, integrated systems, industrial maintenance, and more.
Supply Chain Management:
Employers are seeking candidates as managers, analysts, and planners with backgrounds in transportation and logistics, warehousing, distribution, purchasing/procurement, export/import management and more.
Contact Sara Dell​ in Career Services​ with questions, at sdell@iit.edu or 312.567.6488
More details can be found in the flyer above.
Don't forget to follow Career Services on Facebook.