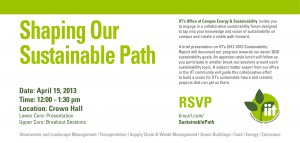 IIT's Office of Campus Energy and Sustainability invites you to engage in a collaborative sustainability forum designed to tap into your knowledge and vision of sustainability on campus and create a viable path forward.
A brief presentation on IIT's 2012–13 Sustainability Report will document our progress toward our seven 2020 sustainability goals. An appetizer-style lunch will follow as you participate in smaller break-out sessions around each sustainability topic. A subject-matter expert from our office or the IIT community will guide this collaborative effort to build a vision for IIT's sustainable future and realistic projects that can get us there.
The forum will be held on Friday, April 19 from 12 – 1:30 pm in Crown Hall (Lower Core: Presentation; Upper Core: Breakout Sessions).