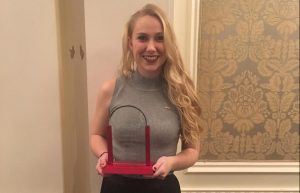 At the United States Collegiate Athletic Association National Championship banquet on February 28, Illinois Tech Women's Basketball senior April Wanagas was named the Division III Women's Basketball Student-Athlete of the Year.
"I'm really honored to have been selected for this award," said Wanagas. "At Illinois Tech, I'm surrounded by a lot of other compassionate and driven individuals, especially student-athletes, so it is really special to have my efforts showcased amongst them."
"I am extremely proud of April, as she couldn't be more deserving of this honor," said Head Women's Basketball Coach Usha Gilmore. "She has been our team captain for the past two years and our Women's Basketball SACC representative. She is a natural-born leader and will continue to excel after she graduates from Illinois Tech."
Wanagas has managed to maintain a 3.34 GPA while balancing a busy academic schedule, extracurricular and volunteer commitments, and basketball. The co-terminal student completed research on Immunohistochemistry and fluorescent ICC staining to identify beiging adipose tissue as part of a National Science Foundation (NSF) research experience for undergraduates (REU) program. The research involved a presentation at the annual national Biomedical Engineering Society Conference after self-teaching statistics and cell media preparation. Additionally, Wanagas mentored a group of high school students interested in STEM, offering guidance to practice presentation skills in front of peers about STEM topics that can be difficult to explain.
She also served as the president of the Illinois Tech Greek Council in 2016, where she worked to promote and plan events that supported the Greek values while running bi-weekly community meetings and serving first in command to five vice presidents. Wanagas was one out of a possible 300-plus community members to be awarded the Illinois Tech Outstanding Greek Member and served as the 2016 Sigma Chi service chair of the Kappa Phi Delta Sorority, three years after beginning in the sorority as the women's appreciation chair.
All of her hard work resulted in several awards, such as the CAMRAS Scholar award: a full scholarship given to a student for excellence in academics, outstanding contribution in extracurricular activities, and demonstration of leadership in and out of the classroom.
"When I learned April had been chosen for this award, my first thought was how much sense this made," said Director of Athletics Joe Hakes. "She is a true student-athlete who has worked hard to excel in the classroom and on the court. She represents all areas of the university in the best way possible. We are proud to have April honor us by receiving this award."
While all of the honors and accolades for Wanagas are impressive, it is clear that the motive behind all of her hard work is to leave a positive mark on the university and her community as a whole.
"By being involved in so many student organizations outside of my academics, I've realize what's most important to me and how even through small efforts, my actions can impact someone else," said Wanagas. "There's a lot of things I'm not the best at, but I feel like if I made them better for the person who comes after me, then I still accomplished something and am helping contribute to a greater purpose. Creating these habits of being so invested in other organizations will only pay forward in my career when I can translate this love for an organization to a company."
Wanagas is a part of co-terminal degree program and will graduate in May 2017 with both a Bachelors of Science in Biomedical Engineering (Cell and Tissue Engineering Specialization), and a Master of Applied Science in Chemical Engineering.