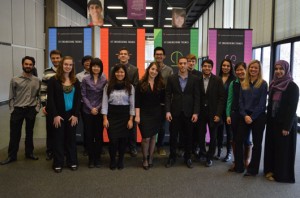 On December 4, 2014, 24 Armour College of Engineering Undergraduate students gathered to present at the Fall 2014 Armour R&D Expo. The students presented the results of work they completed over the fall semester as part of the Armour R&D program.
Armour R&D is part of the Armour College of Engineering Distinctive Education Program and promotes the concepts of innovation and entrepreneurship amongst our undergraduate engineering students. Armour R&D consists of two programs: Program for Undergraduate Research Education (PURE) and Mentored INovation and Development (MIND). Students selected to participate in PURE had the opportunity to gain valuable research experience working with an IIT faculty member. Those selected under the MIND program developed new technology based on research findings.
Winners were selected by a panel of judges that included faculty members, as well as Ph.D. students from all engineering departments. The judges rated projects based on context, clarity and overall visual presentation, with a possible high score of 30. One presenter was awarded the highest rank overall with three awards going to presenters with the next highest scores.
Fall 2014 Winners
The team of Joaquin Lares (ME, 4th year) and Matthew Spenko, associate professor of mechanical engineering, received the Highest Rank Overall with a score of 28.34 for their project, Vehicle-Terrain Interaction. The team, who were the runners up in the Summer 2014 Armour R&D Expo, continued the Security Themed project from Summer 2014 semester.
The team of Cameron Ketchmark (EE, 4th year) and Joohee Kim, assistant professor of electrical and computer engineering, the second highest scoring team, received a score of 27.67 for their project, Improving Feature Descriptors for Pedestrian Detection.
The team of Yanxin Li (ChE, 3rd year) and Vijay Ramani, Hyosung S. R. Cho endowed chair professor of chemical engineering, the third highest scoring team, earned a score of 27.34 for their project, Hydrogen Evolution Reaction Catalyst for Solid-State Alkaline Water Electrolysis.
The team of Isabel Arias (BME, 2nd year) and Eric Brey, professor of biomedical engineering, the fourth highest scoring team, received a score of 27.167 for their project, Role of Growth Media Variation in the Formation of Mineralized Tissue In Vitro.
Armour College of Engineering is currently accepting proposals to take part in Armour R&D during the spring 2015 semester. You can gain experience working in a lab with a faculty member while earning a stipend. Proposals are due Friday, January 23, at 5 p.m. central. More information and guidelines for submitting a proposal can be found here.