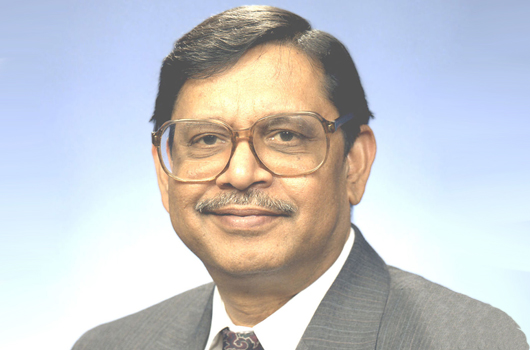 Armour College of Engineering Board of Advisors member and alumnus, Bhakta B. Rath (Ph.D. Metallurgical Engineering '61), was awarded the Medal for the Advancement of Research from ASM International. He is cited as receiving the award for his "leadership in promoting basic research and advanced exploratory developments in multi-disciplinary fields of materials science and engineering and promoting technological innovation for commercial sector and for national security."
The medal was established in 1943 to honor an executive whose primary activities involve the production, fabrication, or use of metals and other materials. The recipient must have consistently sponsored research and development throughout their career and helped substantially to advance the arts and sciences relating to materials science and engineering.
Rath currently serves as associate director of research and head of the Materials Science and Technology Directorate at the Naval Research Laboratory in Washington, D.C. He sits on several planning, review, selection committees and advisory boards for both the Navy and the Department of Defense, as well as for the National Research Council, the National Academy of Engineering, the National Materials Advisory Board of the National Academy of Sciences, National Science Foundation and various higher education institutions.
He is a member of the National Academy of Engineering and has been elected as a fellow of several technical societies. He has received a number of honors and awards, most recently an award for excellence from the Undersecretary of Defense, Honorary Membership in the American Institute of Mining, Metallurgical and Petroleum Engineers, the Royal International Award for Excellence from the Royal Charitable Trust in India, and a 2015 Illinois Institute of Technology Professional Achievement Award.