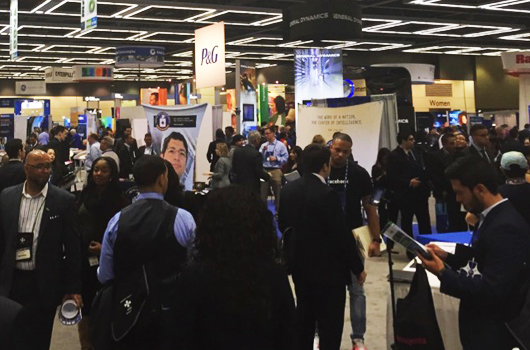 Twice a year Armour College of Engineering holds a Student Funding request period for engineering students, student groups, or student organizations. Students compete for funding based on the quality of the proposal submitted, experience the funding will provide, and how the funded experience will positively impact the Illinois Tech and Armour College community. This semester Armour provided funding to seven student organizations and teams out of 12 that applied after a review of proposals by the Armour College of Engineering Distinctive Education Council.
One organization that received partial funding through the Student Funding program is Illinois Tech's chapter of the Society of Hispanic Professional Engineers (SHPE). A number of the group's senior members recently attended the SHPE National Conference in Seattle. The event is the largest technical and career conference for Hispanic and Latino professionals and students in the country.
"I had the opportunity to practice and re-evaluate my interviewing skills. I also was exposed to new companies that I had not considered," said Gimenna Garcia (CHE 5th year). "The conference every year has opened many opportunities for me in professional growth, leadership development, and finding job opportunities," shared Jorge Acosta (CPE 4th year). "I am excited to say that through my experiences at the conference I have accepted a job offer I would have not been able to obtain without the SHPE conference."
Armour will issue a call for proposals to fund student-led projects during the spring semester in January 2017. Learn more about the program here, and watch your hawk email account for the official announcement from Armour.