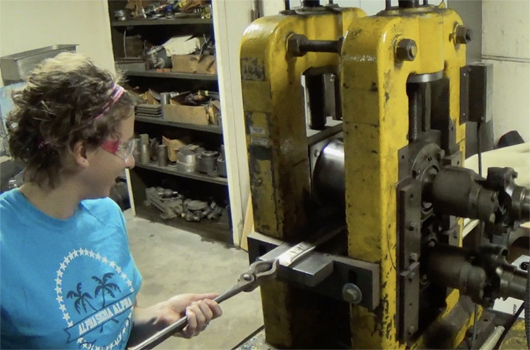 Three students from Illinois Tech's Material Advantage student group, Mary Hawgood (MSE 4th year), John Hasier (Ph.D. MSE Candidate), and Kathy Ho (M.S. MSE Candidate), authored "Accumulative Roll Bonding for Bladesmithing: From Book to Burrito to Blade." The paper was published in the December issue of JOM, the journal of The Minerals, Metals & Materials Society (TMS).
The paper details a bladesmithing project the group undertook as part of the TMS Bladesmithing Competition. The group's objective was to produce superior quality decorative steel from dissimilar starting metals using severe plastic deformation. In the publication the students discuss the characterization and testing of the starting and wrought materials as well as the challenges the group faced in producing knife steel via synthesis of modern and traditional forging techniques.
The group will display their knife and compete against other universities as part of the Bladesmithing Competition at TMS 2017 146th Annual Meeting and Exhibition from February 26 to March 2 in San Diego. At the event they will be judged against other universities based on the blade they submitted, as well as a poster and video explaining their process.
Read the complete paper here.