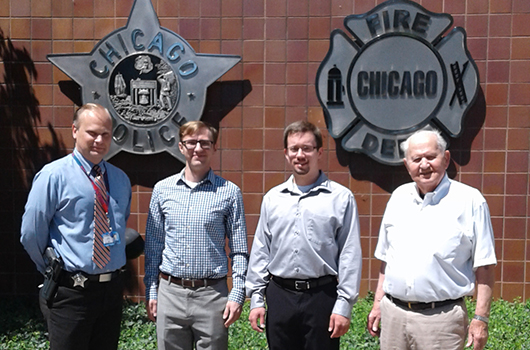 Three Armour College of Engineering students, Matthew Copple (CE 4th year), Haris Latic (CE '17) and Nicholas Wozniak (CE Ph.D. student), conducted research into countermeasures that can minimize the threat of vehicles to crowds. Members of the team recently met with officer Kevin Hacker and the Chicago Police Department's Threat and Vulnerability Assessment Group to present the results of their work.
The team conducted their research as part of the course CAE 437 Homeland Security Concerns, instructed by Anatol Longinow, an adjunct professor in the Department of Civil, Architectural and Environmental Engineering. The course teaches students how to analyze the security risks to public and private systems and facilities as well as to design structures and procedures to minimize casualties at a time of emergency.
The student's report comes during a time of heightened security in the United States and abroad due to a string of tragic events involving vehicle-ramming terrorist attacks. With Chicago's numerous summer festivals and events in the parks, the team wanted to make their mitigating measures known.
The students had previously made a presentation at Rush Medical Center and have future plans to present to the Bureau of Alcohol, Tobacco, Firearms and Explosives (ATF), Department of Homeland Security (DHS), and Federal Emergency Management Agency (FEMA).