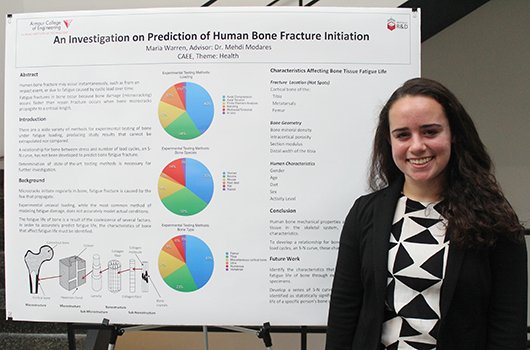 Maria Warren (CE 5th year) was awarded a 2017 National Science Foundation (NSF) Graduate Research Fellowship (GRFP). Several individuals named recipients of this prestigious fellowship have gone on to make breakthroughs in their areas of expertise and been later honored as Nobel laureates.
Out of 13,000 applicants representing 449 baccalaureate institutions, Warren was one of the 2,000 awardees selected. The diverse group of winners includes 1,158 women, 498 individuals from underrepresented minority groups, 75 persons with disabilities, 26 veterans, and 726 senior undergraduates.
The NSF has provided fellowships to individuals who have demonstrated the potential to achieve significant advancements in science and engineering since 1952. The fellowship provides three years of support to students for graduate study that leads to a research-based master's or doctoral degree in science or engineering.
Warren was also named one of nearly 150 recipients of the National Defense Science and Engineering Graduate Fellowship. The Department of Defense awards these fellowships to individuals pursuing a doctoral degree who have demonstrated the ability and special aptitude for advanced training in science and engineering. The program has awarded nearly 3,400 fellowships since its inception in 1989.
Fellowship awardees are only allowed to select one opportunity to pursue. Warren selected to proceed with the NSF Graduate Research Fellowship because of it's high prestige and flexibility.
During her time as an undergraduate at Armour, Warren first experienced research with Intelligent Infrastructure Systems (IIS) division of Pennoni. With the company she investigated the behavior of bridge expansion mechanisms through structural health monitoring data.
Furthering her research interest, she participated in Armour R&D, a competitive program that provides undergraduate students faculty mentored research experience. She worked with Associate Professor Mehdi Modares, on the project An Investigation on Prediction of Human Bone Fracture Initiation, which sought to better understand the conditions that lead to bone fracture.
"As an undergraduate, I've been fortunate to participate in research projects both in industry and academia. Through my experiences at IIS and with Armour R&D, I've learned that I enjoy the challenges and learning opportunities that come with doing research," says Warren.
Warren will graduate with a BS in Civil Engineering in May. After commencement she will begin her Ph.D. studies at Georgia Tech in a lab that focuses on understanding the effects of blasts and impact loading on structures. She hopes this research will contribute to the safety of humanity by making our structures more resilient and reliable.
Through her volunteer work with the Museum of Science and Industry, Warren has become an advocate for encouraging young girls and women to pursue their interests in engineering and science. "Along with making technical contributions, I hope to improve gender equality in terms of representation, workplace culture, and equal pay in the civil engineering industry," she states.
Warren would like to thank her advisors, family, and friends for the support and mentorship she received.