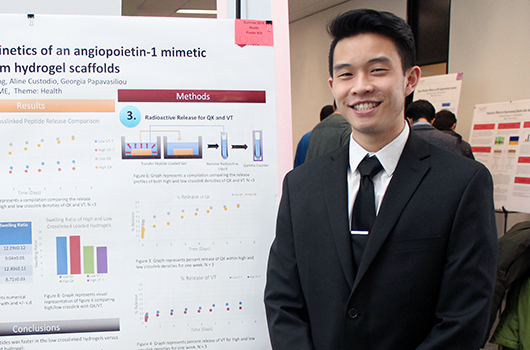 Wesley Lo (BME 4th year) was selected to present his research at BMES 2017, the annual meeting of the Biomedical Engineering Society. The event will take place October 11–14, 2017 in Phoenix.
Lo will be presenting the project, "Modeling Dual Delivery of Proangiogenic Peptides from Hydrogel Biomaterials for Neovascularization of Ischemic Tissue." Work on the project was conducted under the guidance of Associate Professor of Biomedical Engineering Georgia Papavasiliou during the 2017 Armour R&D Summer Research Immersion Program. Lo and Papavasiliou worked to learn if a controlled delivery of pro-angiogenic and vessel stabilizing peptides from hydrogel nanoparticles allowed for rapid and sustained in vivo neovascularization in a subcutaneous rat implant model.
Lo has worked in the lab with Papavasilou since he first participated in the Fall 2015 Armour R&D Program. He was previously awarded the fall 2015 High Score and Overall High Score awards at the 2nd Annual Armour R&D Expo, the Top Presenter from Illinois Tech at the Chicago Area Undergraduate Research Symposium (CAURS), and was named the Undergraduate Winner for IIT Research Day. His accolades are a testament to his hard work and determination as well as the program's ability to offer undergraduates a valuable research experience.